Food and drink
Order food from our Concierge Hub app:
Our Restaurant and Bar menus are now contactless and you need to order and pay via our new Concierge Hub app.
Simply scan the QR code on your table, order and pay via your device.
We don't just serve food, we present it. We're passionate and creative with our delivery and go to great lengths to deliver an outstanding dining experience.
We're passionate about great food and drink and love creating exceptional menus using seasonal and local produce.

Not just a restaurant
Depending on the nature of your stay, we tailor our restaurant service to fit you. No one guest is the same so, whether you're a business guest, conference delegate or leisure guest, we adapt our menus and service method to suit you. We are flexible with our service and make the restaurant what you need it to be - one group may have a sit down meal service whilst a separate group has a hot 3-course buffet. We can accommodate up to 250 diners - perfect to accommodate multiple groups as well as private dining.
We know that event organisers don't always want or need the pressure of deciding on the menu. Our staff have the experience and expertise to design menus with matched wines so you don't need to worry about being the sommelier.
We're not pretentious with our menus. We like to keep it simple and add flair to dishes with flavours and colours whilst keeping the service at the highest standard required by the occasion or the guest's preference.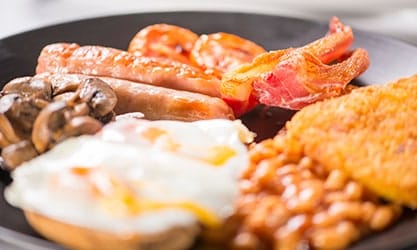 Breakfast
Indulge in our award-winning breakfast. Choose from a huge range including granola station, selection of cereals, make-your-own yoghurt section, fresh fruits, continental section and full English. Ideal for a business breakfast meeting or as a hearty start to the day ahead.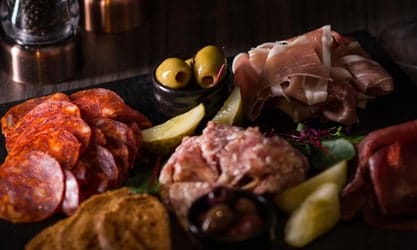 Lunch
Our creative 3-course conference lunch offers interactive hot food with chefs serving from the hot plate, plus you can help yourself to our salad bar, soup station, fresh meat platter and dessert station. It's the perfect way to relax and take a break from business but perfect for a networking lunch if you want to continue the dialogue.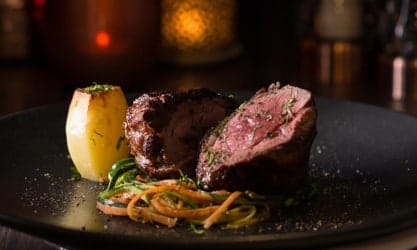 Dinner
We tailor dinner service to suit you. If you're dining with colleagues and want our full 3 or 4-course dinner, or if you're dining alone and prefer just the one course, our restaurant is a comfortable setting for all our guests. We love to provide that personal home-from-home experience but are equally at home mass catering for a formal gala dinner.

Gala Dinners
We don't just see gala dinners as a large dinner for 250 guests. We're more than happy providing gala dinners and private dining for small groups too - flexiblity is key. Whether you're here for a reunion event, corporate party or award ceremony, we will fit the menu around the nature and theme of the event. Starting with a Prosecco or Gin bar reception, we'll then serve an extensive range of canapes in our lounge/bar area before you make your way to the restaurant or private dining suite for full 3 or 4-course table service.
Whilst you work
We know that our clients want flexibility and more of an experience from their meeting spaces. We can create menus to be in keeping with the nature of your meeting, served in the comfort of your meeting room. Whether you're after finger food or something served to you, we'll make it easy for you.
We can also provide buffets elsewhere in the hotel or transform our courtyard with curry, burger or pizza stations for an extra special experience.
Something a little different
Why not add a bit of novelty and sparkle to your conference and get the conversation started with something to remember? We can deliver food and drink to anywhere in the hotel so whether you're after hot food or drinks reception in the courtyard, there is no limit to how you can have your food and drink served.
See you in the bar
Our Bar and Lounge is the perfect place to unwind, relax and have a bite to eat. Home from home but without having to cook yourself, we offer quick and easy food to suit you. If you want to get away from business and zone out with a steak and a pint, prepare for the morning meeting over fish and chips, or grab a gourmet burger with colleagues over the laptop, you'll find something on our Bar menu to suit.
We also serve a top range of spirits, beers and daily ales from local brewers and distillers, plus have a good range of draught lagers and an extensive wine list.
The food available at all meal times was impeccable. The selection was varied and interesting and the quality was of the highest standard. There were regularly options that I would not expect to see from a meeting venue and this set Burleigh Court apart from its competitors.

Pearson Qualification Services