Medium meeting rooms
We offer 4 medium-sized training and meeting rooms - the Dove, Soar, Swift and Derwent. Identical in dimensions, all our rooms seat up to 80 theatre style or 40 cabaret style.
They are ideal for training sessions and make the perfect size breakout room for larger events. The rooms are fully air-conditioned, wheelchair accessible, have natural daylight, and are located on the ground floor.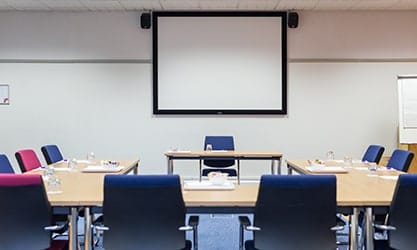 Dove, Soar, Swift and Derwent
Key features
Dimensions 10.5m x 9m
Ceiling-mounted data projector
Projector screen
Air-conditioning
Natural daylight
Free, unlimited 1Gbps WIFI
DVD/Blu-ray player
CD player
Display rails allowing display of posters hanging of additional whiteboards/flipcharts
Flipchart, whiteboards, stationery
Ergonomic seating
Induction loops for impaired hearing
Capacities
Theatre - 80
Cabaret - 40
U-shape - 22
Boardroom - 28
Classroom - 40