Burleigh Springs Leisure and Therapy Centre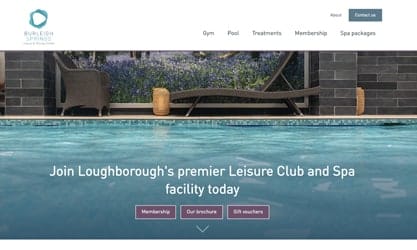 At Burleigh Springs Leisure and Therapy Centre, we offer our hotel guests and members great facilities with a personalised and friendly service.
Head over to the Burleigh Springs website to explore all our facilities, treatments and leisure offers.

Visit Burleigh Springs website
---
Leisure club opening times:
Monday to Friday 7am - 9pm
Saturday & Sunday - 9am - 5pm
Bank Holidays 9am - 5pm
Due to current restrictions children are not allowed in the pool.
Christmas Opening Times
24th December - 9am - 1pm
25th - 29th December - CLOSED
30th - 31st December - 9am - 3pm
1st January - CLOSED
2nd - 3rd January - 9am - 3pm
TIER 3 UPDATE
We are open in line with the Government guidelines. Please take note of the guidelines we will be operating under: Leisure Club Guidelines
If you would like to make a booking please call us on 01509 633016. Alternatively, you can email us at info@burleigh-springs.co.uk and we will get back to you confirming appointments.